ADDICTION RECOVERY PROJECTS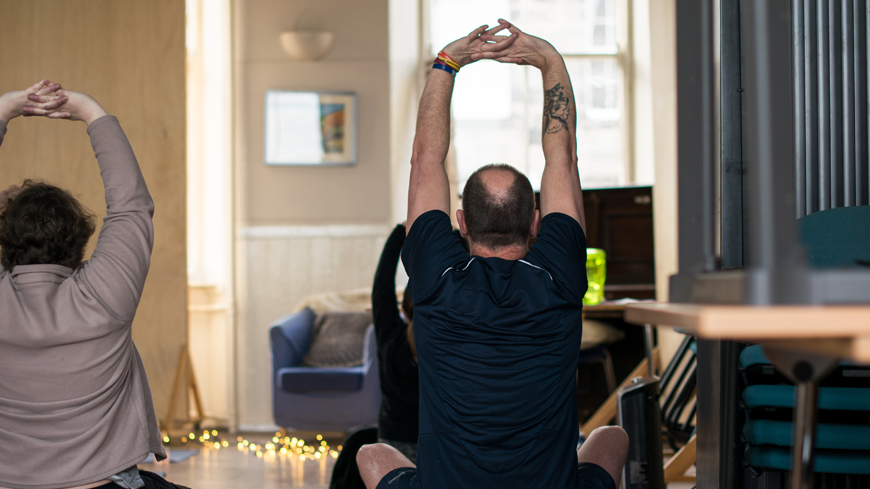 Through a combination of activating, deeply relaxing and contemplative practices we offer Addiction Recovery Yoga to help individuals to re-balance neurologically and prepare them to be in a receptive place to work with other recovery professionals in lifestyle therapy.
Serenity Café
Funded by Mars GoodnessKnows grant. We work with the most established recovery café in Edinburgh, the Serenity Café, running the 8 week Minded Addiction Recovery Kit (MARK) programme. Each person on the 8 week programme  receives a free one to one recovery/life coaching session. As part of this project we also offer a Friday night drop in class with community social for graduates of the 8 week programme.
Alcohol Related Brain Damage Unit-Penumbra Milestone
We offer the 8-week MARK programme to residents of the in ARBDU run by Penumbra Milestone. This class offers accessible movement and breath work to people with a range of physical and cognitive impairment and encourages balancing of the nervous system and awareness of sensations in the body. 
Lothian Edinburgh Abstinence Programme (LEAP)
We offer regular yoga and meditation workshops for people engaged in this residential abstinence programme in Edinburgh, offering people the chance to experience the healing offered from mind/body practices and to learn skills that may help in their long term sobriety.