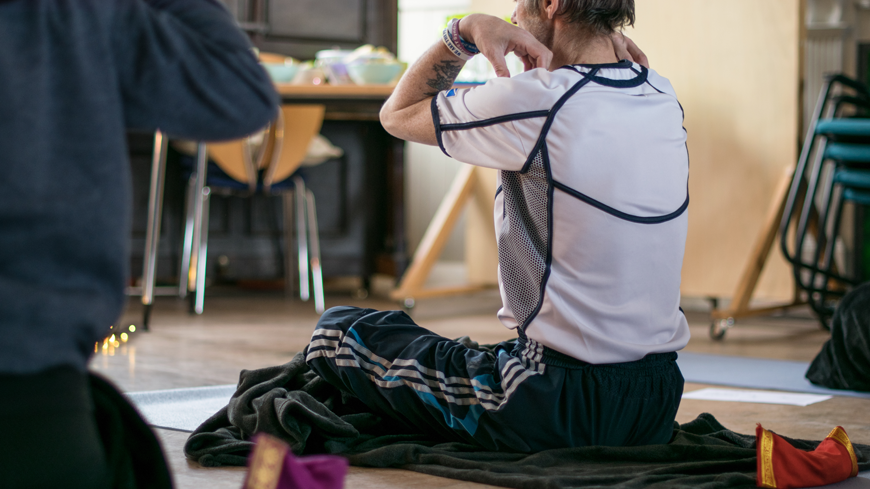 Trauma-informed yoga encourages individuals to reconnect with the physical body and notice sensation, which is essential for wellbeing.
Trauma informed yoga teachers bring an awareness of the impact of psychological trauma on a person.
This approach works with an understanding of the needs of the individual, always ensuring safety, grounding and choice-making through the use of interoceptive and invitational language.
The approach aims to empower individuals, and to engage in an activity that supports the development of safe and supportive relationships.
Our trauma informed yoga teachers have training in this area and are highly skilled and experienced in working with vulnerable groups.
MENTAL HEALTH
We work with a variety of NHS mental health settings to offer yoga to inpatients and outpatients with a variety of mental health issues.
Self-Harm Service
We run a weekly trauma informed yoga class with people who attend the self harm service at the Royal Edinburgh Hospital, supported by a clinical nurse specialist and funded by the Walker Trust and most recently the Edinburgh and Lothian Health Foundation. As part of this project we also one to one sessions in inpatient ward areas for those who cannot attend the class.
The Hive
The Hive is a sanctuary for in-patients at the Royal Edinburgh hospital. This centre offers art, music, recreation and crafts activities. ECY Outreach teach a weekly therapeutic yoga class for the patients and the staff who work with them.
Forensic Psychiatry
We run yoga therapy classes in two secure psychiatric units, one in Edinburgh the other in Lanarkshire. Focusing on developing emotional resilience and self-compassion and offering safety and choice these classes support the rehabilitation of chronically unwell patients in extremely stressful environments.
WOMENS PROJECTS
We work with many vulnerable women who are supported by a variety of not for profit organisation's in Edinburgh.
Shakti Womens Aid
This monthly classes offers a place of relative safety and calm for black minority ethnic (BME) women, children and young people who are experiencing, or who have experienced, domestic abuse.
Womenzone (Comas)
Womenzone works with women in recovery from addiction and affected by trauma. We run a weekly class for women involved in the project, and are funded for 2018 by the Womens Fund for Scotland. As part of this project we are able to offer a weekend retreat to women on the project.
Saheliya Edinburgh – move, breathe and learn English
This 12 month project, funded by the Big Lottery, partners with Saheliya Edinburgh and Our Mala to offer a weekly trauma informed yoga class and an English class to BME, and in particular refugee and asylum seeking women at the Saheliya Learning Centre. We offer provision for a crèche, refreshments and links to other services.
VETERANS
There is increasing evidence that military veterans and acting military service people can benefit from trauma informed yoga. Military Veterans can face a multitude of physical and mental health issues as they readjust to civilian life. Our teachers working with these groups have completed training with Warriors at Ease, a leading organisation in the field of yoga for veterans.
Veterans Community Cafe
Funded through the Veterans Scotland and the Scottish Government this year long project offers a weekly yoga class for military veterans and several day retreats for veterans and their families in Edinburgh at the Veterans Community Café, a project of Sadaya Edinburgh. We also teach on workshops as part of Sadayas retreat programme for veterans.
Whitefoord House
We run a weekly class for veterans and staff at Whitefoord House, an old town residence for military veterans.
Personnel Recovery Centre
This weekly class, subsidised by ECY fundraising offers rehabilitating soldiers resident at the Personnel recovery center in Gilmerton the chance to begin to heal psychologically, emotionally and physically in a safe and supportive environment.