Comic Relief #ShiftThePower – Cyrenians Social Bite Village
2023
The #ShiftThePower Coronavirus Response Fund was open to community groups and charities working in Scotland. The purpose of the fund is to support grassroots organisations that are providing help and assistance to vulnerable individuals, families, and communities, including coping with the impacts of Coronavirus.  Edinburgh Community Yoga were awarded funds to support an eighteen month project including: project work and supporting social prescribing projects in Craigmillar, weekly mat-based yoga classes for SCOREscotland's women's group, weekly chair-based classes for the Beacon Club Dementia and Older Adults groups and facilitation of our 'Thriving Not Surviving – Recognising the Effects of Stress' workshops in outreach settings.
This year Hannah King, Yoga Teacher and Project Worker and Lorraine Close, Outreach Director at Edinburgh Community Yoga delivered a series of 'Thriving Not Surviving – Recognising the Effects of Stress' workshop to the Cyrenians Social Bite Village.  The sessions took place the Social Bite Village, Granton, Edinburgh.
You can read the details from Hannah King, ECY Teacher and Project Worker below:
As an outreach yoga teacher, my work with Edinburgh Community Yoga takes me to a variety of spaces, from secure psychiatric wards and NHS health centres to local community projects, mental health services and educational settings.
Lately I've been lucky enough to spend time at the Social Bite Village, a progressive, community approach to tackling homelessness run by Cyrenians in Edinburgh. The Social Bite Village is a welcoming, supportive, tiny-house residential with beautiful views of the Forth, an abundant shared garden, and a large communal space for cooking, eating, relaxing by the woodfired stove (and doing yoga).
Over the past few months, I've delivered three Thriving Not Surviving – Understanding the Effects of Stress workshops. Learning about the stress response, what happens in our bodies when we're stressed, and how we can use yoga, breathwork, meditation and mindfulness as self-regulation tools. I often adopt the peer approach when facilitating these sessions, sharing that my passion for this work comes from my own lived experience of using yoga, breathwork and meditation as a tool in my own recovery journey.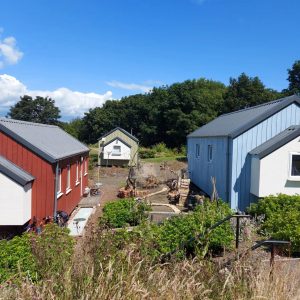 Each session is different – it is led by the attendees. Despite the Thriving not Surviving workshops varying, every session looks at building resilience, and sharing invaluable resources and practical strategies to help manage stress and regulate our nervous systems. The first half is often spent discussing the neurobiology of stress, looking at our autonomic nervous system, and getting an understanding of some common symptoms of anxiety and stress. During the sessions we explored practical techniques for self-regulation, and shared our favourite ways to relax – music, time in nature, walking, meditation, cold water swimming and spending time with pets. We discussed the importance of adding more restful self-care to our daily lives- and how that might look. The conversation is always engaging and stimulating, but one session in particular led to a poignant discussion on the importance of 'meeting your body where it is' using acceptance.
The second part of each session saw us move away from theory into practice. Together we moved, breathed, stretched, flowed, tapped, hummed, jumped around, and then ended with a guided relaxation. We connected with our breaths using one of my favourite drawing techniques. Using a pen and paper, tracing a line of each inhale and exhale. A focused, active way to check-in with your breath in the present moment. Self-compassion intertwined its way throughout all three workshops. When we begin to understand it is an automatic, neurobiological response, it's easier to offer ourselves acceptance and kindness. During the final session we were blessed to have some beautiful sunshine, and so decided to take the yoga outside, surrounded by birdsong and wind, feeling the sun against our skin, with a view of the sea, adding even more benefits to our practice.
It's always such a joy to deliver these Thriving not Surviving sessions. I'm a huge advocate for more psychoeducational work. Sharing yoga and self-care resources offers many benefits, but when we include the educational element, not only are we supporting others to regulate, but we're also empowering them with the knowledge and skills to regulate themselves. And when we can learn to self-regulate, we build more resilience, and life often seems to get a little easier to navigate.
Feedback from our sessions included:
'It's good stuff to learn about, and relevant to my own experience'.
'I found it very useful to recognise symptoms I'm experiencing'.
'Really good to be able to take some dedicated time to focus on breathing, movement and pausing for a moment'.
'A great way of checking in with yourself and reminding yourself of the simple but effective ways in which you can ground yourself.