Comic Relief #ShiftThePower – ScoreScotland
Wednesday 24th May 2023
The #ShiftThePower Coronavirus Response Fund was open to community groups and charities working in Scotland. The purpose of the fund is to support grassroots organisations that are providing help and assistance to vulnerable individuals, families, and communities, including coping with the impacts of Coronavirus.  Edinburgh Community Yoga were awarded funds to support an eighteen month project including: project work and supporting social prescribing projects in Craigmillar, weekly mat-based yoga classes for SCOREscotland's women's group, weekly chair-based classes for the Beacon Club Dementia and Older Adults groups and facilitation of our 'Thriving Not Surviving – Recognising the Effects of Stress' workshops in outreach settings.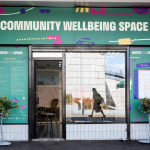 On Wednesday 24th May 2023 Laura Wilson, Founding Director of Edinburgh Community Yoga delivered our 'Thriving Not Surviving – Recognising the Effects of Stress' workshop to the SCOREscotland's women's group.  This session took place at the Community Wellbeing Space in West Edinburgh's shopping centre, serving Wester Hailes. The Community Wellbeing Space is home to the Community Wellbeing Collective, and is situated at Westside Plaza Shopping Centre.
You can read the details from Laura below:
Spending time with the women at Score Scotland this afternoon was a very special experience that I personally will cherish.
I had prepped my usual 'Thriving not Surviving' workshop with the neuroscience of the stress response and the science of why yoga works sewn through a variation of different relaxation, meditation, breath, and movement practices. However, on arrival and meeting some of the wonderful women I was to be teaching that afternoon it was clear my plan was to go out the window and I was going to have to rely on different modes of communication than the usual word of mouth.
The majority of the accessing the Score Scotland women's group were Arabic. A couple spoke excellent English, most spoke a little, some none. There were women from Nigeria, India and several Arabian countries and the room was soon filled with the laughter and mostly Arabic chatter. The groups translator helped to introduce me, and I was made to feel very welcome with a lot of warm smiles and friendly eye contact. I felt very at home there, whilst also being aware I was very much the odd one out.
As we moved into delivering the content, I began to gauge what was possible and found myself using a lot of miming, sounds, facial gestures, and chalk drawings to take the group thorough the concepts. Many times, we laughed as we attempted to make ourselves understood to the other members of the group. The more time we spent together the clearer it was that the experience of stress and trauma is universal. The sensations, the thoughts, the responses we described were all too often the same.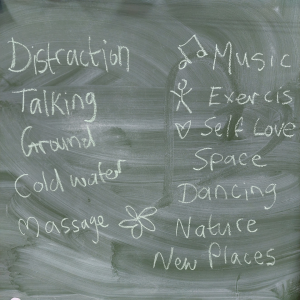 As a group, we also shared healthy coping strategies – time in nature, cold water swimming, cooking, singing, dancing, exercise and discussed why, from a physiological perspective these might work.
Finally, we put our conversations into context with a practice. Even here, I noticed how much I rely on my words to sew the themes explored into a somatic experience. A guided meditation or yoga nidra in this context would be lost, so instead we worked with our breath and body to move some energy and activate the rest and digest branch of the autonomic nervous system before resting in silence. (Well relative silence, give or take the odd giggle, snore or toddler entering the room)
Joy, connection, and community. Yoga in action in the very best of ways.