Almost 2 (now 3 :/) weeks into the beginning of my fellowship with the Winston Churchill Memorial Trust, I thought it was about time to write, especially since I said I would post a weekly blog. I've been making notes as I go but haven't managed to put anything coherent on paper to summarise the experience (I don't do that well with structure) so I've abandoned them and am seeing what happens.
Maybe it makes sense to go back to the start.
Right before I met Laura in 2013 I spent a decent amount of time staring at the internet pages of  yoga not for profits in the US and wondering if I could replicate the model in the UK.  Turned out Laura had already put the wheels in motion with ECY, and while I was spending my evenings collating Pinterest pictures of organisations like  Yoga Outreach and the Give back Yoga Foundation she was trying to figure out how to grow the amazing community work she was doing with ECY. Thankfully, for many more reasons than business growth (read emergency life advice, the best friendship ever,  and a ready made family in Edinburgh) we found our way to each other and there was no going back.
I stumbled  across the WCMT fellowship in 2015 and immediately was drawn to the opportunity to learn from international colleagues in a field of interest with a focus on creating social change in the UK. The fellowship is a brilliant programme  as it is open to any British Citizen regardless of education level, a refreshing change from the competitive and exclusive academic quagmires we often find ourselves immersed in. I had a clear sense that I wanted to apply however my life looked pretty different then, and for a variety of reasons the time wasn't right that year. Or the year after. Or the year after that.
The end of a long term relationship and a bit of fresh perspective and space to breathe found me scoping out the application form one evening as I contemplated what was going to happen next. Obviously, true to form, the deadline was the end of that week and I decided in that moment that maybe this would be the year that I had nothing to lose.
Admittedly I didn't know much about Churchill, as demonstrated in an awkward moment during interview, so I was somewhat surprised to be awarded  a 7 week fellowship under the Enterprise Category, supported by the Rank Foundation to visit Canada, the USA and Kenya to learn about sustainability in yoga not for profit.
Of course time rolled by and October came around faster than anticipated as I cleared my office desk in the medical school until January,  thanks to a very  supportive boss and team, and got ready to leave the UK.
I arrived in Vancouver with some expectation of mountains, and bears and hipsters and hiking and coffee.  I had always imagined it would be a place I could live and with meetings lined up with Lululemon'sHere 2 Be programme, and Yoga Outreach, one of the longest running yoga not for profits in the world I was really interested to see what the week would bring.
Vancouver is beautiful, surrounded by water and mountains, tons of green space in Stanley Park and the seawall and  a laidback international vibe.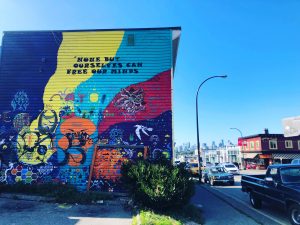 Its an easy city to navigate with good food, an arts scene and everything you might expect, including all of the hipsters plus sassy bears and immense hiking and the Herschel store. However I spent a fair bit of time in the darker side of the city which like some of its US counterparts is gripped in an opiate crisis most visible amongst the cities homeless community. This population has grown since the closure of  long term psychiatric hospitals and a lack of solution/political will to provide adequate shelter or homes; a basic human right.
The Downtown Eastside of the city houses most of these people, living on the streets and in a local park that has become a 'tent city' where police enter in groups of 4. I worked with not for profits in  Calcutta,  a maximum security prison in Glasgow and have spent a lot of time in many cities around the world and I am not sure I have seen human suffering on this level anywhere ever before. People are piled on top of each other, some catatonic others writhing in distress, covered in open sores and scabs rummaging around in the piles of clothes rubbish and drug paraphernalia that constitute their worldly goods.  In his book 'In the Realms of the Hungry Ghosts' Gabor Mate  talks with compassion, respect and understanding of the human stories of trauma and adversity, particularly of indigenous Canadians, the and lives that end up here scattered all over the street openly injecting heroin Fentanyl/Carfentanyl is a big part of the
problem here, serving to make a bad situation worse and is accounting for a significant number of drug related deaths.
In the midst of the chaos though is a lot of light. There are many people out there working to advocate for and support those who are marginalised, and I was fortunate that Delanie at Yoga Outreach organised for me to be able to spend time with the BCSTH  who offer support to organisations providing shelter for women and children affected by domestic violence. This team of women were unperturbed when I rocked up on my Mobi city bike, having fallen off it, got lost and then dragged it upstairs in a lift so I knew we were going to get on fine.
Hearing about their commitment to human rights, and discussing some of the challenge around ethics and fundraising, doing the right thing by service users and how best to support women in a fast paced changing world was really insightful from a work perspective and on a personal level. BCSTH also happen to be running a federally funded research project exploring the impact of trauma informed yoga programmes in Transition Houses across the state. This is deeply exciting to me. Research and yoga do not intersect that well for many reasons. Yoga is difficult to standardise, commitment to interventions is difficult and therefore statistical power (which makes research valid and worth paying attention to) is difficult to achieve. That doesn't mean we don't believe there is benefit in the practice.
When someone tells me they can finally feel safe enough to close their eyes after months of practicing yoga that tells me yoga is doing something immeasurable,  but that information doesn't make great shakes in a world that values scientific evidence. It is a really challenging issue, but I do believe that it is hugely important that yoga research continues to grow. Incidentally, I had some great conversations with Catherine Cook-Cottone, a leading researcher in the field of yoga,  during my week with the Yoga Service Council- blog on this later, and I am really encouraged by the work that is happening in this field.
In  Vancouver I also spent time with my aforementioned yoga heroines  Nicole Marcia and Delanie Dyck at Yoga Outreach. To be able to spend time with really smart and engaged women with at least a decade more experience in running a similar organisation to ECY was very reassuring and gave me hope that we are on a really good path. Interestingly Yoga Outreach was inspired by the work of the Prison Phoenix Trust who are our friends and allies in the UK.
During the week I  got to take part in a Yoga Outreach class at a residential treatment centre  which was a very familiar mashup of chaos at the start as chairs were moved and people cracked jokes in their socks and shoes to entering a place of settled quietness as the teacher Tara, made space for people to be present with body and breath, a really important part of the recovery process. In the class Tara said  "It doesn't matter if you fall, its what you do afterwards that counts" and she was right. We all wobble  and fall both off and on our mats at various stages in life but it's what you do next that really counts.
Yoga in this setting was a mandatory part of the recovery programme, when you sign in to rehab you agree to attend- however you are able to show up in the room, this makes it feel like the practice of yoga is really valued as an adjunctive therapeutic practice by people working in addiction services, as opposed to a 'nice activity'. I'd like to see us move towards this model in Scotland.
It feels like a lot happened in this week.  I had a lot of fun as well as learning so much and it has been a surprise to really decompress and take time to process all the work that we have done this past couple of years. The 6 months before I left were busy, often feeling like we are firefighting and moving from one thing to the next with little time to think,
so an unintentional bonus of this trip has been time to get on my mat often,  run, walk,  think and create space for ideas and integration of some of the work and effort we put in to keeping ECY going forwards. I am leaving with plenty to think about for the next leg of the fellowship, to spend a week in Boulder  Colorado. I am really grateful to the WCMT for this opportunity, and would encourage anyone who even has a tiny spark of 'maybe I could do that' to jump on the website and apply. It is so worth it.
Love
Lorraine